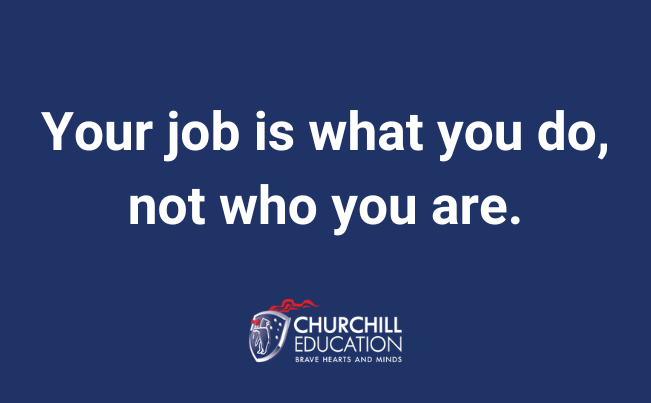 "Your job is what you do, not who you are."
That was what my psychiatrist told me when I first saw him in the very early days of treatment for Post Traumatic Stress Disorder. I don't know that I really believed him.
It's easy to see how we can lose sight of who we are when the what we do is all-consuming.
I worked with police, and I played with police. I even married a police woman, firs time around.
My job owned my time. I could get called out of bed at any time, day or night, and I did. My scheduled end of shift time was never guaranteed.
I could be off-duty and come across a situation that pulled me on duty.
I saw myself as the job.
Unravelling the two: who I am rather than what I do took a while.
I know I am not alone. It is something that I see across industries and professions.
Separating Identity from Skills & Experience
When I was able to separate my identity from my skills and experience, I was able to start looking at myself differently.
I was able to be open to another career option, using those same skills and experience, just in a different way.
All good in theory, but how do you actually begin?
This is how I started: by putting myself into an entirely new and often uncomfortable circumstance.
My father-in-law worked in Used Car sales.
Every Saturday for months, I went down and worked in the car yard, selling cars. I wasn't paid but it wasn't money that I was looking for in the opportunity.
I wanted to know what it felt like to talk to people without a badge in my pocket.
To do a job that was not my identity.
And that's where it started.
I think people in sales roles are some of the most resilient people. Rejection comes thick and fast at times. They know the value of separating out the person from the job.
It turns out that the psychiatrist was right too.
Who I am is way more important than what I do for a dollar.
I reminded a good copper, nursing a dose of PTSD of this today, and if you need reminding, feel free to hang on to the image of me, a car yard and some serious tyre kicking.
In the meantime, if you are ready to obtain the qualifications that your experience deserves and your career needs, reach out.
Randall Smith
Co-Founder & Director
Churchill Education