Diploma of Security Risk Managementt
Are you interested in earning the CPP50619 Diploma of Security Risk Management through Recognition of Prior Learning (RPL)? You may be eligible to receive this qualification based on the work you've already done. And, you could do it without having to complete any additional study.
The role of a Risk Manager sits at a Diploma level, as a general rule. Risk Managers are responsible for communicating risk policies and the overall policies and procedures for an organisation that minimise and manage risks.
This includes development of risk models, monitoring and improving controls to ensure there is effective risk management at an operational and strategic level. To achieve these outcomes, a Risk Manager is going to need to ensure extensive and appropriate research and quantitative and qualitative analysis has occurred.
Risk Managers must have the business skills to communicate effectively through a range of reports, negotiations and educational presentations, balanced with savvy business and operational knowledge.
To complete the Diploma of Security Risk Management through Recognition of Prior Learning (RPL), you need to demonstrate at least two years experience in:
Establishing and maintaining an occupational health and safety system
Coordinating security operations
Assessing security risk management options
Ensuring team effectiveness in a security/risk management environment
Where could this qualification take you?
As with the Certificate IV, elective units can be chosen according to the direction you want to take your SRM career, be that risk management, biometrics, financial security, network security or business, marketing and HR management.
Position Title Examples:
Security and Risk Manager
Security Advisor
Risk Consultant (Security)
Investigations Manager
The Diploma of Security Risk Management has 10 units of competency, five of which are core (or mandatory) units, and five elective units of competency. The core units address skills and knowledge in these areas:
Establish and maintain an occupational health and safety system
Coordinate security operations
Assess security risk management options
Manage quality customer service and people performance
Manage personal priorities, professional development and team effectiveness
Security Risk Management Industry
The Security Risk Management (SRM) sector is expanding rapidly as demand from both government and private enterprise grows. So too is the range of roles available within this industry.
At one end of the spectrum there will always be straight forward security guard and personal protection roles, however increasingly security and risk careers have evolved into the realm of data protection and corporate IP security, with opportunities both domestically and internationally.
Security Risk Management careers represent a prime civilian industry for ex-military and ex-police personnel. However it is also an industry that values a wide range of life and work experience, particularly business skills.
Apply for a Complimentary Assessment​
After 30 years of Military service, Ken was diagnosed with Type One Diabetes and had to be medically discharged. Ken was able to convert his service into an Advanced Diploma in Work Health and Safety, which helped him to secure civilian employment at a management level and achieve a better quality life.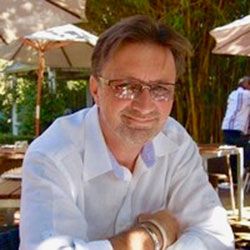 "It was very succinct with respect to what I had to produce, and within no time, to my surprise, my assessment came back with some substantial accreditation."
"The opportunities are still the same, but I'm looking at them differently because last week I was looking without the formal credentials; this week I have them."
"You come out of Defence with a broad skill set, particularly in management and leadership, which are two things that are often spoken about but not completely understood."
"I was gobsmacked with the qualifications I was able to achieve. I knew I could get some due to my experience and skill set, but I just didn't think I'd end up with four!"
"I was really impressed with how quick and professional Churchill was. They are there to help, they don't beat around the bush, and they don't leave you hanging."
"As a member of Defence you don't actually realise this. You can't apply for civil accreditation, until you actually have a separation day."
"It was very smooth, and very easy to apply. I gave them the information they needed, and they did the rest."
"'I went from thinking that I didn't really have much from nine years of policing to an amazing level of self-worth."