Convert your experience into qualifications that
demonstrate your versatility and adaptability.
Find out what you are eligible for:
With the Australian mining sector on the move, now is a great time to get into the industry, or move up if you are already working in mining.
iMinco reports the current average mining salary as $123,844 and predicts a 'huge year for mining'.
RPL for Mining is for you if you want to:
Get promoted if you currently work in mining
Use your experience in other industries to enter the mining industry
Demonstrate the transferability of your skills to move to a new industry
Top 3 Qualifications for Mining
Many people have been asking us for our recommendation on the best qualifications for a career in mining.
Our recommendations are based on mining requirements and remuneration, but also on work/life balance and career flexibility.
Because in our experience the most useful qualification is one that demonstrates your versatility and adaptability so that you are always equipped to respond proactively to change – whether that be in your current role or industry, or the ability to change industries as opportunities present.
More Information About Mining RPL Processes and Fees
Apply for a Complimentary Assessment​
Australian mining expat, Jeremy Stone spared us some of his time, all the way from Madagascar, where he is currently living and working, to talk to us about the mining industry. In this report Jeremy shares some of his fascinating story, how he got into mining, why he loves it, the role RPL (recognition of prior learning) played and advice for others wanting to work in the mining industry.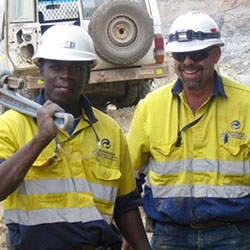 "It was very succinct with respect to what I had to produce, and within no time, to my surprise, my assessment came back with some substantial accreditation."
"The opportunities are still the same, but I'm looking at them differently because last week I was looking without the formal credentials; this week I have them."
"You come out of Defence with a broad skill set, particularly in management and leadership, which are two things that are often spoken about but not completely understood."
"I was gobsmacked with the qualifications I was able to achieve. I knew I could get some due to my experience and skill set, but I just didn't think I'd end up with four!"
"I was really impressed with how quick and professional Churchill was. They are there to help, they don't beat around the bush, and they don't leave you hanging."
"As a member of Defence you don't actually realise this. You can't apply for civil accreditation, until you actually have a separation day."
"It was very smooth, and very easy to apply. I gave them the information they needed, and they did the rest."
"'I went from thinking that I didn't really have much from nine years of policing to an amazing level of self-worth."