Lucille's lifelong love of animals has taken her on a surprising career journey. In the following industry report, Lucille shares the story of how she landed her current job as a Best Practice Consultant for a global leader in veterinary software solutions. Lucille also discusses the value of her RPL (recognition of prior learning) qualifications, and how you can get into her industry.
Lucille's Career Path Story…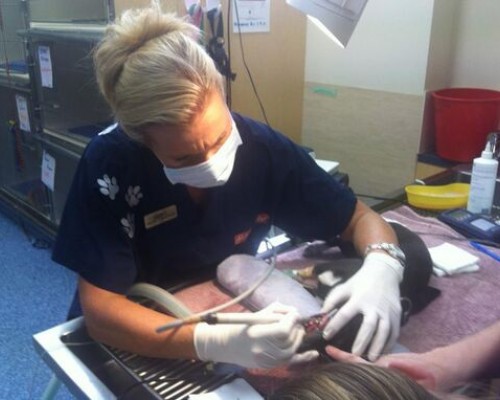 Lucille's love of animals first compelled her to study as a Veterinary Technician. This coupled with great customer engagement and administrative skills allowed Lucille to quickly work her way up to becoming Practice Manager for a veterinary clinic on the Gold Coast. Eventually it came time for Lucille to look for a new adventure. In her role she had been recruiting vets to work for the company and in the course of this, she saw her present role advertised on the recruitment page. She knew she had the product knowledge. She'd used the software they sold, and so she applied for the job and got it!
It's an exciting role as the company spans the markets of the USA, UK, Europe, Asia, New Zealand and Australia.
Whilst their main business is providing practice management software (similar to that used by dentists and doctors), they also look after all their clients' associated IT needs including their hardware: computers, printers, servers etc. The position of Best Practice Consultant means it is Lucille's job to look after all their existing customers. There are about 1,400 of them, ranging from big corporates, to small clinics. Lucille says:
"I do a lot of consulting with my practices and help them to formulate methods and management solutions to increase their profitability, grow their revenue, manage their staff and the way they operate within the clinic. The software program is the heart of their business, and it's my job to ensure that they're utilising it to its full capacity. This includes ongoing training so they can get the most out of it, and keep up with new program modules".
What qualifications / experience did Lucille need to get the job?
Because Lucille manages a team of people, to be considered for the role, Lucille required a management qualification. For this Lucille studied hard over the course of a year to achieve
BSB51915 Diploma Leadership & Management
with Churchill. The role also required Lucille to evidence skills in customer service, sales and business administration. Though Lucille began on this career path as a Vet Technician, she had also amassed skills in all these areas. So for these areas she utilised the Churchill RPL (recognition of prior learning) pathway to show what she knows.
Recognition of Prior Learning (RPL)
On the strength of the evidence Lucille was able to provide of her skills and experience, she was able to achieve
BSB50315 Diploma of Customer Engagement
and
BSB50215 Diploma of Business.
Why Diploma of Customer Engagement?
Lucille says Customer Engagement was an absolute must, since her role primarily involves ongoing consulting with long-term clients, as well as bringing on new clients.
Why Diploma of Business?
A Diploma in Business showed that Lucille knew her way around figures. This was important since the role also involves managing sales budgets and meetings, then collating all this information into spread sheets that get sent through to head office every week. Her business qualification also comes in handy with project management, since she has big project upgrades for clinics which run into $40-$50,000 at a time. The overall implementation involves managing input from various departments and must adhere to a strict time constraint.

For roles with a strong focus on project management, a
Diploma of Project Management
could also be a great investment. And if you already have the skills and experience, you can achieve your diploma via RPL.
How Can You Get into The Industry?
Although Lucille's lifelong affinity for animals and time in the industry definitely helped her to get the job, she says the most important thing is a background in sales and strong customer engagement and administration skills. A Diploma of Customer Engagement and Diploma of Business would set you in good stead for this type of position in this or any industry. And if you wanted to start at the level Lucille is at, you'd also be well advised to hold a Diploma of Leadership & Management or equivalent. Lucille says another option would be to start with an entry-level position such as the support desk, and work your way up over time. Hard work and dedication is always rewarded. If you are keen to get into the Veterinary industry
Seek
is a good starting point. Lucille also says the recruitment site
Kookaburra Veterinary Employment
is a great place to find jobs specifically in this industry.
If you would like to get into the Veterinary industry, or any industry for that matter, make sure your past experience is fully recognised by formal qualifications. RPL means you don't need to study what you already know. Apply for a free assessment by completing the form below, and put your best foot forward!