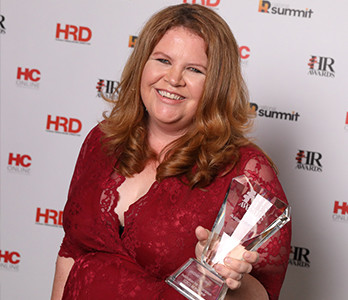 Last Friday night, The Australian HR Awards were held at The Star in Sydney, and our very own CEO took out the top gong for leadership, The Achieve Forum Australian HR Champion (CEO) of the Year Award!
This award is in recognition of Tricia as a CEO who has 'driven successful HR strategies from the top by putting people first and championing innovative HR values.'
Rather than just applauding her stewardship of business operations, this award acknowledges Tricia as a CEO who drives, motivates and inspires the entire Churchill community.
Balancing these responsibilities is no small feat, and those of us who work at Churchill as well as the students who study or complete RPL here have been able to benefit from Tricia's wisdom, guidance and encouragement during her reign as CEO.
Tricia has won against some pretty impressive competition, including Simon McGrath from Accor Hotels, Gail Ker OAM from Access Community Services and Cormac Barry from Sportsbet.com.au, and says she was 'quite shocked,' about the award, but that 'the recognition is a lovely notion.' Of course, we at Churchill HQ were not at all surprised at all to see Tricia's leadership prowess acknowledged, and anyone who has seen Tricia speaking would have seen this coming from a mile away.
Some of you may already know that Tricia is a former Crown Prosecutor with the Office of the Director of Public Prosecutions in Queensland, and worked in the legal profession for over ten years before co-founding Churchill with her husband, Randall Smith. Tricia stepped into the role of CEO of the company in 2015, when Randall's health prompted him to step aside from the post.

As a senior detective with the Queensland Police Service for sixteen years, Randall's service career ended in 2005, when he found himself completely sidelined by Post-Traumatic Stress Disorder (PTSD) ended his police career. It was this, Tricia says, that ultimately started them on the path to establishing Churchill Education, and helped shape her ideas and practice of leadership.
'Our family's experience of mental health issues, together with my years spent working with victims of crime, particularly, specialising in prosecuting sex offences against children, really made the biggest impact on my personal approach to leadership,' Tricia says.
'As a Crown Prosecutor, I saw the worst of humankind. There were days it seemed we could go no lower, there were days that hope seemed slim. And yet, with very rare exceptions representing the very worst of the worst cases, two things were clear: we all have a story to tell. And so much of that story can change if those around us believe in us and become our champions.'
It is this philosophy and her continued advocacy for the power of education to change lives for the better that has ensured that Churchill Education is part of a rewarding chapter in the lives of thousands of Australian students. The organisation continues to thrive under Tricia's care (and has won awards for innovation in addition to this latest honour) but Tricia and Randall's family life has had ups and downs during this time, she says.
Not least among them, Randall's relapse with full-blown PTSD last year. 'It was tough,' Tricia confirms. 'Bloody tough. And some days, I would drive home wondering how I could do this, help him, raise our children and be a CEO. But every day, I would get in the car and drive back to the office because every day I had the opportunity to work with some extraordinary people who were prepared to believe in me just as much as I believe in them.'
'I have always taught my children that it is a privilege when people come to work with us. Each team member chose us, just as much as we chose them. And because they chose us, they want us as leaders to show up, authentically.'
And show up she does.
Congratulations Tricia, it is an honour to work alongside you.