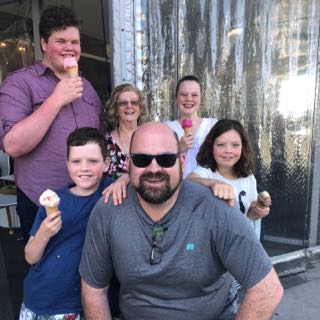 We have four children: two teenagers and 10 year old twins. This is me, the kids and my mother … made sure I was in her good books before Christmas! At this time of year, school is wrapping up and the excitement of Christmas is clear in their chatter. And we love it … love their enthusiasm for life and their simple perspectives. They are excited by the fact that the sun is out longer, that the water is warm enough for a swim, the watermelon is cold and juicy, and that they don't have to wear school shoes anymore.
It's exactly what being a kid should be about.
It would be nice if these were the things that filled our energy as adults too.
And some years they are. An easy BBQ with friends brings laughter, a swim at the beach reminds us of how good it feels to ride that wave in to the shore … And we can look forward to Christmas and the New Year.
But other years, it can all seem too much.
Last week, a police officer took her life. Another police officer, another veteran, another community worker, another paramedic, another nurse. Always another. Always one too many.
And then there are our friends, our family members, our colleagues who are still turning up for work, despite the darkness that is weighing them down. Christmas is coming but it brings no joy, making life seem harder and lonelier.
I don't know where you are at this year … if you are looking forward to Christmas or wishing that there was a fast forward button to get past it all.
What I do know is this … nothing ever gets better without letting someone else know where you are at. I tried; tried to ignore the darkness that hung over me, tried to tell myself this was just normal for me, tried to just keep turning up to work telling myself it was everyone else that had the problem, not me.

It was only when I actually told someone what was happening that I began the very long, slow path to recovery. And to my surprise, there were more people in my corner than I had realised, more people who understood because they had been where I was at, more people who were willing to help me.
So, as Christmas is coming, I hope you are looking forward to it. I hope you have plans of sharing a cold drink and a good meal with people you care about.
But if you find yourself in a dark place, I hope you tell someone.
There are some good people to talk to …
This Christmas, let's all share a little kindness … to others and to ourselves.
Talk soon,
Randall