Latest census data shows a rise in Aussies favouring vocational qualifications over university study. This is such logical, practical good news.
In the following story, Churchill Education's Marketing Manager, Leonie reflects on the path of education she chose for her career, and what she would have done differently with what she knows now. We also take a look at what exactly vocational qualifications are, how Recognition of Prior Learning ties in, and data that shows a direct link between qualifications and pay rates.
Leonie's story…
Back when I was finishing high school in the early 90s (what a great time to be a teenager!), there was a big push to go to university, especially for girls. There was a stigma that said, 'If you are smart enough, your next step is university.'
I was a nerd in high school, so I achieved good grades and trundled off to Monash University to embark on a commerce degree… along with THOUSANDS of other students.
Some of the lecture theatres held more students than my entire high school.
Honestly, university was a bit of a disappointment… The partying was good (the nerd got out in the big wide world), but what I thought would be an inspiring centre for learning and sharing ideas seemed to me to be a production line. Ship 'em in, ship 'em out.
I found that if I regurgitated what my tutors said in essays and exams, I'd get good marks.
I had brilliant friends who did not follow the uni protocol very well and failed… even though they were uniquely gifted free thinkers.
At the other end of my degree there were thousands of grads vying for positions with big recruiters where you could get paid a pittance for the privilege of being worked like a dog in a graduate, entry level position, saddled a HECS debt.
All in all, it was a pretty expensive party.
Meanwhile, some of my friends from school went into trades or cadetships, and by the time I finished uni, they'd already bought their first house and had cars that didn't frequently break down like my rusty little Datsun Stanza which was all I could afford at the time.
I caught up eventually. But I probably could have made it to the same destination a lot quicker if I had gone into an internship after school, instead of uni.
This points to the value of vocational education and qualifications…
What is Vocational Education?
Vocational education is much more practical and skills-based than the academic focus of universities.
The job site indeed.com defines vocational education as, 'any type of training that teaches the specialised skills required to perform a specific job.'
"Universities have traditionally been the place you go to gain knowledge, but people are still finding that even though knowledge is more readily accessible, practical skills are a little harder to receive unless you're on the job."
Dianne Dayhew, Nati­­­­onal Apprentice Employment Network CEO
Vocational education focuses directly on teaching the specific skills required to perform job roles. Which means less time studying, and more time working and earning.
And study isn't the only pathway to a vocational qualification… there's also recognition of prior learning!
What is Recognition of Prior Learning?
Recognition of prior learning (RPL) is an alternative assessment process to study that captures what you already know and can do. It means you don't need to study what you've already done in your recent career.
And this is where Churchill Education comes into the picture!
Since 2006 we have helped talented people Australia-wide to gain nationally recognised qualifications through RPL. Over that time, we have refined the process to the smooth journey it is today for literally thousands of people.

The School of Life
The reality is many people go straight into the workforce after school. Which means they start earning income and accruing superannuation from a young age. This is great for the bank balance in the short term, but many find they eventually hit a glass ceiling, and it comes down to qualifications.
Even though the best sort of knowledge comes from doing, many professions require specific qualifications, particularly as you reach the senior management level of your career.
In order to stay competitive, you'll need to be able to show qualifications that back up your experience.
This is what makes RPL such an important career resource.
It means you don't have to spend months or years studying what you already know and can do. And not only does it save time, it also saves money. Typically, RPL is about half the cost of studying the same qualification, which means you can get those all-important qualifications on your resume and in front of prospective employers fast. In as few as seven days in fact!
This is more great news, because data shows there is a direct link between qualifications, employment and pay rates…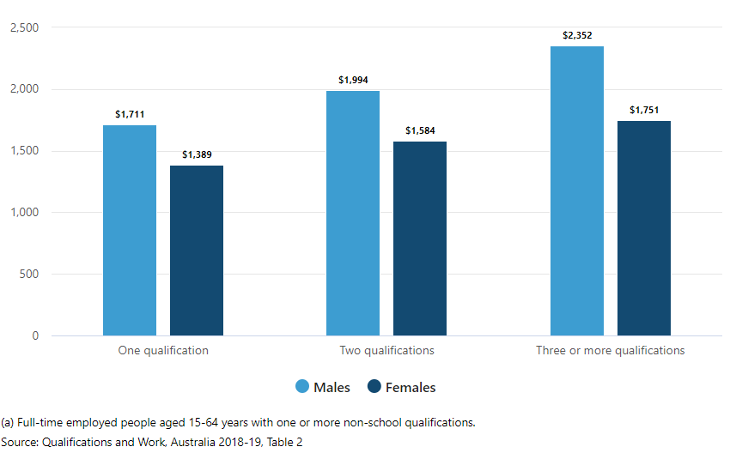 "Having qualifications relevant to their current job made a difference to people's rates of underemployment. People with no qualifications relevant to their current job or no qualifications at all were twice as likely to be underemployed as those with a relevant qualification (14% and 12% respectively, compared with 6%). They were also much more likely to have lower weekly personal incomes than those with qualifications relevant to their jobs (48% and 50% respectively, compared with 23%)."
Australian Bureau of Statistics
Federal treasurer, Jim Chalmers stated recently that key to Australia's future prosperity will involve an increase in skills and qualifications.
The benefit of hindsight…
So, to finish, do I regret going to uni? Absolutely not, it was a blast. And I learned a thing or two as well! For many careers it is the best an only pathway. But was it the best road to employment for me? Honestly, probably not. If I had my time again, knowing what I know now, I probably would have gone into the workforce, picked up some experience in a few different things, decided what I liked, looked for an internship/cadetship, then climbed my way up the ladder, RPL'ing along the way.
Ah the benefit of hindsight!
If you've accumulated a bunch of great skills throughout your career, drop us a line or give us a bell on 1300 793 002 and find out what qualifications might be sitting waiting for you.

The assessment is totally free, so it represents a smart career asset. A toe in the water, that if you so choose, can lead to a bunch of top qualifications to compliment your career experience and help take you to the next level in your career.
References: