Defence RPL (Recognition of Prior Learning) is a vital strategy to assist military personnel exiting their careers in the army, navy or airforce, and helps to translate their years of experience into an asset in a civilian career. This is one story of Defence RPL success, the story of Neville exiting the army.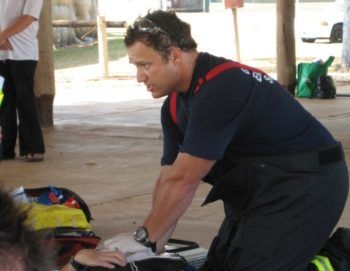 When Neville Marks got to the end of his almost decade-long military career, he took the time to ask himself what he wanted to do from there, where did he want to go and how was he going to get there? These questions revealed some surprising answers.
Neville was fairly sure he knew which kinds of roles would suit him, and what he wanted to do. Being an ex-combat medic, he knew he had some strong work health and safety skills, the only problem was, on paper all he had was experience. 'There was a significant deficit between what I had experience in and what I was qualified to do,' Neville said.
He knew employers were going to want someone with nationally recognised qualifications when it came to something as important and the safety and health of their employees. But Neville had already transitioned from the army, and he didn't have the time to return to the classroom to study for a qualification, particularly one he already knew, inside and out.
Making experience count
That's when Churchill Education started working with Neville and he was introduced to Defence RPL ) as a way of recognising his years of experience. Neville worked with us, initially earning a Diploma of Paramedical Science, to bridge the gap from Defence to civilian life.

Realising early on that putting together a Defence RPL application was something that took a considerable amount of time and industry knowledge, Neville was glad to be able to continue his search for new positions while we completed the often complex paper work.
Talking to someone who can help
Having this conversation with Neville, and making sure we were meeting his needs meant that the final qualifications awarded were 'focused to satisfy the requirements of the positions I was seeking, making the process time efficient and economical in the long run,' Neville said.
'That first accreditation really opened up doors for me, in fact some of my applications were met with really eager employers who were surprised that I was applying for the roles given my qualifications and accreditations.'
Getting the job and starting the business he always wanted
So where has Neville gone from here? I'm sort of doing two things at the moment, so I'm working full-time with BHP Billiton in Western Australia providing emergency services coverage for them on their refinery operation and I run my own consultancy business on the side. So, those things, plus kids and a wife, keep me fairly busy!'
When transitioning from the Defence Force to civilian life, there can be a lot to consider. If you have an idea of what you want to do, but aren't sure how to go about getting the qualifications that will get you there, it all starts with a conversation.
We've helped thousands of former military personnel make the transition to the civvy world, and we're happy to help you too…