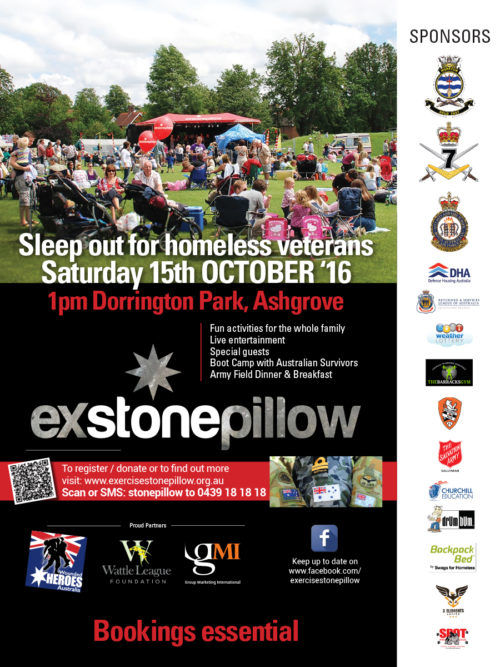 Churchill Education is proud to support Ex Stone Pillow, a fantastic initiative that raises funds to assist homeless veterans through the Wattle League Foundation.
Exercise Stone Pillow, founded in 2013, is designed to simulate rough sleeping conditions for participants, to highlight the challenging reality of life for homeless veterans and their families in Australia. Participants are welcome to attend in family groups, and sleep outside for a night with only tents, sleeping bags and basic mattresses.
The Wattle League Foundation illustrates why this cause is so important: 'In the last 20 years, more than 45,000 Australians have served in peacekeeping operations and in areas of conflict in East Timor, Afghanistan, and Iraq. Thousands of those veterans are currently living with a mental health illness or will experience a mental health illness once they return home.
Common mental health problems among veterans include depression, anxiety, substance abuse problems and trauma and stress-related disorders (such as post-traumatic stress disorder). As a result of these mental health problems some veterans find themselves homeless or displaced, sleeping in cars, couch-surfing or sleeping rough.' (www.wattleleaguefoundation.org.au/WLF/projects)
The Wattle League Foundation is planning to establish a purpose-built facility called Wattle House to provide transitional accommodation to veterans who find themselves homeless or at risk of homelessness as a result of mental illness.
The funds raised by Ex Stone Pillow will go a long way to helping them achieve this goal, with the current total of funds raised sitting at $2539.00.

There will be something for the whole family, including activities for kids, demonstrations from cadets, a boot camp challenge, sunset memorial service, Live Army Band and dinner provided by the 7th Brigade. VIPs will also be in attendance, including Mark Donaldson VC.
The event will finish on Sunday, October 16, after a BBQ breakfast. Book here.
Alternatively, you can donate here.
We hope to see you there!