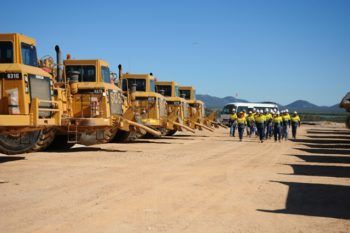 After working in a high-pressure management position, Robert Boyd secured qualifications through Recognition of Prior Learning (RPL) and his past experience and landed a rewarding mining construction role.
Robert Boyd had been in the construction industry for a long time. 'I basically left school and started working in the construction industry and I stayed in this industry for about ten years, before moving onto something different, I then ended up in the local council, learning a lot about legislation. The problem came to be that I was managing staff, and [had a role] with huge amounts of stress, I'd started a family and it was then that I decided to get back into construction. So, Robert got proactive. He was looking to trade in his high-stress management role for something similar to the construction roles he'd had in the past, but with his new skills and experience, more senior construction roles. But he came to find, that when he was looking for new roles, this time in a mining construction role, he had his years of past experience, but no qualifications. Robert spoke to us at Churchill Education after finally moving into a Health and Safety role for a mining construction company. He was ready to take that next step in his career, and we talked about turning this experience into nationally recognised qualifications through a process called RPL (recognition of prior learning).

'I got serious about getting some qualifications in about 2012. So I worked with Churchill Education and showed them my experience which included working in a safety advisory role and I showed some of the material I had from this job to show my capability and they took that and helped me to get the BSB60612 Advanced Diploma of Work Health and Safety (now superseded by BSB60615 Advanced Diploma of Work Health and Safety.'
Since then, Robert has gone on to use RPL to earn two more qualifications in management and business. 'Because of the grounding I had, particularly in legislation, coupled with the qualifications I now have, I've gone from step to step.' It was obvious when talking to Robert that we were talking to someone who has really hit their stride and that he genuinely enjoys the work he's now doing. Robert told us he's been able to more easily show his comprehension of work health and safety legislation since earning his Advanced Diploma. We asked Robert what ultimately made him decide to achieve the Advanced Diploma of Work Health and Safety…
'It was for a role. I knew that I couldn't advance to a higher health and safety role without the qualifications. I just wouldn't be able to. But, with the assistance of you guys, I've basically been able to step-up from a Safety Advisory role to now knocking on the door of a Safety Management role.'
Robert now works on a liquefied natural gas (LNG) mining construction project on Curtis Island as an Environment Safety Health and Training Supervisor, a role he credits to getting with the help of his qualifications.