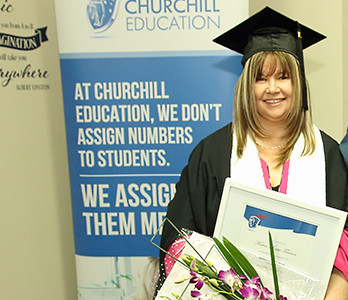 Karen Trainor recently graduated with a CHC50413 Diploma of Youth Work through Recognition of Prior Learning. Her years of experience in the community services sector translated into this full qualification, and Karen is thrilled with the outcome! Here's her story:
'The RPL process with Churchill was awesome. I had them recommended to me by a young guy I worked with who is in Shepparton as well. He said to me: 'You've been doing this for years, you need to get the piece of paper.
I said no, it was all too hard, and I had to work so couldn't afford to do placement. He explained that he had gotten fully qualified through RPL. Since that conversation, I've told at least four people to do it! They're people who are in the same boat as me, with years of experience, but no qual.
If you've got the experience, the paperwork's not that hard. You probably have it all, already. I was very blessed as in my last job in mental health, I had a lot of assessment documents. That made it really easy. When it came time for evidence, I had it all there.

Now that I have the qualification, I have more job security.
I'm working in a high school and the role is a newly created position. At some point they might have to advertise it. As my assistant principal said to me, if someone came along who had a certificate, even if I was the best applicant, they would have had to hire the other person. Because that's what merit and equity says. Because they've got the piece of paper. If you don't have it, you can miss out on jobs.
It also gives me more opportunities. There's a lot of youth work and outreach work in Shepparton. I've been looking online and there's a lot of positions that say you need tertiary qualifications. I've checked and a Diploma's sufficient, so it opens up a lot of doors.'
Congratulations, Karen, and thanks for choosing Churchill for your Recognition of Prior Learning!
As always, if you want to update your qualifications or talk to us about what your experience could equate to in terms of quals, send our Skills Development Advisor, Carmen an email at carmen@churchilleducation.edu.au or give us a call on 1300 793 002.