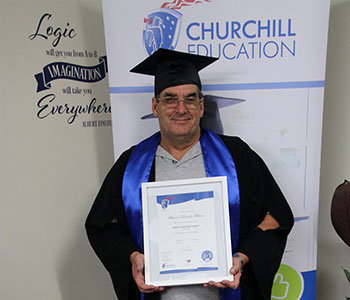 Shawn has recently graduated with a CHC51308 Diploma of Education Support and hasn't lost any time putting his qualification to work.
Having already secured an education support position in a local primary school, Shawn is happy to say that he calls upon the strategies that he learnt in his diploma every day in the classroom.
' The observations particularly, I'm finding useful,' he says. 'I've made behaviour books for a couple of students, that's something I learnt about. They track their own behaviour with it. One child only got one cross and about twenty ticks in his, so I did up a certificate for him. He thought that was awesome!'
While Shawn was studying, he elected to use a program called Dragon to record his answers to assessment tasks, rather than writing them out. Without flexible options like this, Shawn says he would still be doing his diploma, years later. 'It was a really good option to have,' he says. Shawn also credits his good working relationship with his mentor, Barbara, as part of the reason for his success. 'Don't tell her, though!' he says.

For other students who are studying, Shawn says that his best tip is to take regular breaks. 'It unclogs your brain, so you don't get brain freeze or overloaded. You need downtime, you need to stop and walk away from the computer sometimes.' Having set times for study was also useful, Shawn says, as it helped him avoid procrastinating too much.' I just did it. You can't second-guess yourself.'
Congratulations, Shawn, and thanks for sharing your tips!