Captain Rheanna Vehlow joined the Army as a 17-year-old, straight out of high school. After 13 years of service, an unexpected health issue became the catalyst that caused Rheanna to reassess her work-life balance.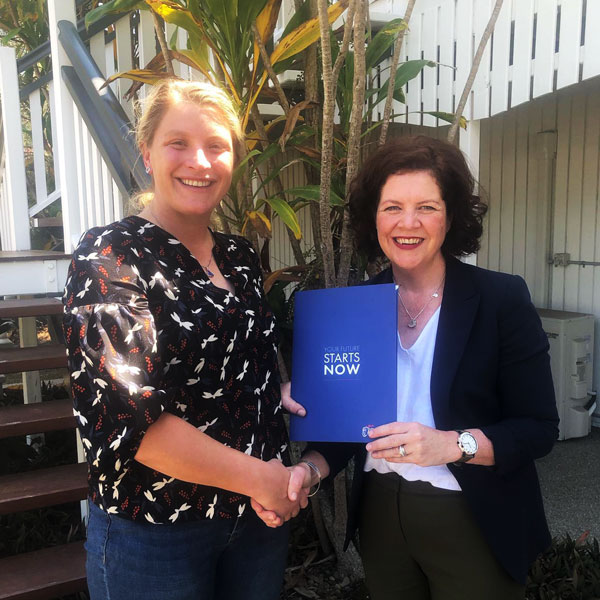 In the following story, Rheanna discusses her Army career, the shock of an unexpected health crisis, reassessing her life priorities, considering a career after Defence, and converting her Army experience into civilian qualifications through recognition of prior learning.
Rheanna's Story (so far)!
Rheanna joined the Australian Army as a 17-year-old, straight out of high school. During her 13-year Army career Rheanna gained a lot of experience as a combat engineer:
"Everything from water purification to bridging to basic construction, demolitions, search, really fun, challenging stuff that is all about problem solving," shared Rheanna.
She then moved into an instructor role, training new recruits in the specialist engineering wings. Including skills such as demolitions, dive, watermanship and basic combat engineering.
A few years into her service, Rheanna was posted to assist with the 2011 Grantham floods.
---
Listen to Rheanna's Interview:
Read Interview Transcript
---
"We were right out in Grantham straight away doing recovery and then enabling the town folk to come back, helping them with reconstruction and initial assessments. It was a really rewarding experience, being able to give back to our community and nation so readily," Rheanna said.
A few short years later, Rheanna was deployed to Iraq as the Captain of a small team for six months as a training team leader, surrounded by an amazing team.
Soon thereafter, in 2019 Rheanna spent time assisting the Julia Creek community after floods devastated inland north QLD.
Health Crisis
Out of the blue Rheanna suffered a serious health issue, which meant she had to take time off work to recuperate.
It gave Rheanna time to think, reflect and reassess her life priorities. She realised she was worn out.
"I felt drained. I had very little personal time or head space for things I used to enjoy doing – like writing, painting and woodwork. I would come home, collapse and try to turn my brain off."
Her busy Army career, with frequent international deployments including Papua New Guinea, New Zealand and America, was stimulating and exciting but expected more and more of her, to the detriment of more and more other parts of her life.
She wondered how she'd feel about what she had done with her last few years of life if it had turned out to be more serious. And says she realised, "My work life balance is rubbish."
This inevitably lead Rheanna to consider her options, and what life outside of Defence might look like.
Recognition of Prior Learning (RPL)
In considering what she would do if she did decided to transition out of Defence, Rheanna realised:
"I have a lot of skills, I have a lot of experience, I have a lot of knowledge. I've got a good attitude, a good work ethic I know all these things, but how do I translate that to a potential employer? Regardless of what field I want to be in, because I don't quite know yet. That's what got me looking into RPL."
A friend recommended Churchill Education.
Rheanna says it felt like a relief when her Churchill Skills Recognition Advisor told her that she simply needed to provide paperwork showing what she had done in the Army, and that Churchill would take an objective look, and let her know what qualifications she could be eligible for.
Rheanna said this was important to her as she had no idea what she wanted to do outside of Defence.
Since Rheanna lives close to the Churchill office, she delivered her paperwork in person. And in the way of small words she discovered that her RPL assessor Nick Wray had been an instructor on one of her Army courses years before!
Rheanna says, "Nick remembered me instantly. That really reassured me. I knew that bloke and I trusted him."
The RPL Process
Rheanna says she found the RPL process inspiring.
"Transition is a very challenging world of unknowns. There's just something about Churchill's confidence in helping me. Telling me: 'You are a person. We acknowledge that you're unique. Here's how we can help you…' It honestly was inspiring. I thought, hey, you're right, I can do this. The future just looks a little brighter. The customer service was just fantastic – people that genuinely care and are honest. It was a very good experience going through this process."
The Preliminary Assessment
The beginning of the Churchill RPL process is being provided with a preliminary assessment free of charge. This lists the relevant qualifications that you are eligible for, based on your current skills and experience.
The keyword here is relevant. Part of the RPL process includes discussing future career goals and direction so that we only recommend qualifications that will be useful.
Rheanna's preliminary assessment came back with eight eligible and relevant qualifications.

Choosing Qualifications
It's always a boost to know how many civilian qualifications a Defence career can be converted into, but it is not necessarily useful to enrol in all. And this is where the cost component comes into the process, so it is wise to be careful and only enrol in qualifications that will be useful.
Having said that, we do always strongly recommend a range of qualifications that demonstrate versatility and a range of skills.
Rheanna talked it over with family and friends. And given that she did not have a clear idea of what she wanted to do, or even if she was ready to leave the Army, she wanted qualifications that would allow her to be as flexible as possible for future opportunities.
Rheanna ended up choosing three excellent qualifications that demonstrated a broad range of skills – in the three areas that we recommend: business, technical and specialist:
PSP60116 Advanced Diploma of Government
What's Next for Rheanna?
Currently Rheanna is taking some well-deserved long service leave, giving herself time and space to take a good look a life, what's important, and what the future might look like.
It may be that Rheanna decides to give Army another few years, but until she makes that decision she's looking at her options, including undertaking a Wine Industry course.
Rheanna says this appeals to her love of being, "hands on, on the ground as part of a small team, seeing what you create."
She likes the idea of getting back to, "something where I'm getting my hands dirty on the job."
There are many different aspects to the Wine Industry. So if Rheanna does end up going that way her qualifications will set her in good stead.
We have no doubt that Rheanna's future will be rosy, whatever she may decide to do!
RPL means you don't need to study what you already know. Apply for a free assessment by completing the form below, and put your best foot forward!