Gavin Carrodus, Chef and Unit Manager on Barracouta Gas Platform in Bass Straight is close to clocking up 13 years of Fly-in Fly-Out (FIFO) work. In the following interview, Gavin discusses the pros and cons of FIFO, life in the middle of the ocean, and being awarded two great diplomas through recognition of prior learning (RPL).
---
Listen to Gavin's Interview
Read Interview Transcript
---
Gavin is a Chef Manager and Unit Manager on Barracouta Platform – 32 kilometres off the coast of East Gippsland, Victoria. Barracouta has been supplying gas to Melbourne since 1970.
Gavin is responsible for managing all the catering and cleaning for the platform. Essentially Gavin's job is keeping 30 FIFO workers happy in the middle of the ocean!
Early in his career, Gavin worked as a chef in pubs and restaurants. Then in his mid 20's with a wife and baby daughter to provide for, a few of his friends had jobs offshore, so he decided to try it out for himself. He applied then started out working casually. For the first few years of his FIFO career, he continued to work casually, moving around the 14 different oil and gas platforms operated by the company he works for.
He has been in his current full-time position for the last three years on Barracouta Platform.
Gavin works two weeks on, two weeks off. The commute is by helicopter.
When he's on the platform he works 12 hours a day, seven days a week.
His days consist of planning menus, ordering supplies, updating KPIs, training and inductions, site inspections, managing the operational plan plus staff appraisals and reviews.
What is it like working and living in the middle of the ocean for two weeks at a time?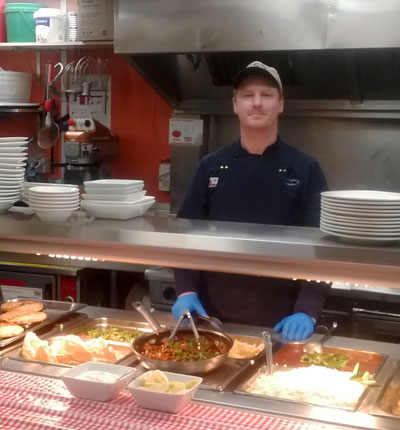 Gavin says it can be isolating. It's a small platform and one of the oldest.
"We have a small bathroom with four showers and four toilets that we all have to use. And it's four to a room, because there's only 10 bedrooms. We've got a dining area and a small movie room that seats 10. The bigger platforms can hold 70-80 people and have pool tables and table tennis tables… things like that," he explains.

Being the chef and unit manager means there are many work health and safety aspects to Gavin's position. Things like implementing safety procedures, completing incident reports, reporting hazards and opportunities for improvement, food safety site inspections, and managing emergency evacuation. Mental health is also a very important aspect of Health and Safety with offshore working environments.
Gavin says the most important thing to people is, "Wondering what they're going to have for lunch, what they're having for dinner, what desserts are we making, and what's for afternoon smoko!"
It's those small comforts that make weeks away from home doable, and they're important.
"I think what keeps the morale up and everybody trucking along is the good food that we provide, and the service we provide for the company," he adds.
Pros and Cons of FIFO
FIFO work doesn't suit everyone, but there can be many perks.13 years on, Gavin is definitely pro FIFO.
Income
Gavin says his salary is double what he would get in a similar position on the mainland. This is great for his family (which consists of his wife and two tween daughters.)
Time Off
Two solid weeks of time off is pretty great, compared with the standard two-day weekend. Gavin admits that he is lucky to have a two on two off weekly roster. He's heard of other rosters that are three-on one-off, which can be very challenging for mental health.
Freedom for other things
Two consecutive weeks off also gives Gavin time for other things like study… He is currently studying an Advanced Diploma of Work, Health & Safety.
Downsides to FIFO
Whilst the money is good for family life, it also means that Gavin doesn't see his daughters for two weeks at a time. He says this took a while to get used to. "Especially when they were young. They grew so quick and changed so much."
But he says this aspect has gotten a lot easier with social media and things like facetime. The platform has wifi and everyone has a device to connect to the world with.
Gavin is at a point in his career where he is looking for advancement, and the roles he is looking at require specific qualifications.
His platform supervisor had used recognition of prior learning to achieve an Advanced Diploma of Work Health and Safety. He passed on the details of the organisation he used – Churchill Education!

Gavin got in touch, went through the recognition of prior learning process and was awarded two diplomas:
FIFO and Work Health and Safety
Work Health and Safety (WHS) is an area required by all offshore work sites. Therefore WHS qualifications are very worthwhile for FIFO opportunities.
"I think health and safety is one of the most important things for offshore. It's very safety orientated – there's policies and procedures and everything's super safe."
Since achieving his diplomas, Gavin has now commenced studying for his Advanced Diploma of Work Health and Safety. Another tick for his two on two off the roster.
The Recognition of Prior Learning Process
Gavin says the process was smooth. He said he'd previously used RPL to gain a hospitality qualification earlier in his career and, "Pretty much had to do all the work for them."
So what was the process like with Churchill?
"I just handballed a heap of stuff into the data portal (RPL Evidence Portfolio) and pretty quickly someone went through it. It was very quick."
Gavin also pointed out that previously he had to pay upfront before applying or knowing for sure that he would qualify.
With Churchill the preliminary assessment is free. You only pay for the qualifications you 100% know you are qualified for and would like to enrol in.
Gavin's Advice for other FIFO workers
"Have a look at RPL. It's pretty common to change careers throughout your working life. You'll be surprised what you can get recognition of prior learning for. And having qualifications on your resume is always great supporting evidence to take that next step into a new career, get promoted into a supervisor role, or just to be acknowledged by your company."
We'd like to say a big thanks to Gavin for taking the time to talk to us and share insights from his FIFO career.
Good luck with your next career step Gavin. We're sure it will be a great one!