Have you ever noticed that Australia really only starts a new year in terms of work and clear focus when January ends and February ticks over?
The distraction of end of year celebrations, summer holidays and school returning seems to hold us all squinting at the calendar for a while, trying to figure out: what is the date today?
I think Australians have an excuse, then, for why so many New Year's Resolutions have well and truly toppled by the time February begins. It is the summer days leading to the summer haze.
Instead of new resolutions (or dusty old ones recycled again), I have started the year differently…
This year, I made a list entitled – 'Be in 2023'.
And this approach has led to some interesting outcomes already.
I should explain …
Putting a goal out there has paid off in so many areas of my life but consistently, it never worked with New Year's Resolutions.
I thought about what the difference was and realised it was this…
When I set a goal during the year, it was about something I wanted to achieve that could be clearly articulated. I could even picture myself achieving the goal. It was grounded in the positive and clear.
When we are setting goals, it is always the end part that we are thinking about that makes us feel excited just thinking about it.
For example, when I decided to hike the Tour Du Mont Blanc a few years ago with a friend, that was the goal.
Sure, I had to put some kilometres on my legs in training, but the goal was never about losing a particular amount of weight or completing it at a set pace. The goal was to stand on mountain passes with a friend and appreciate the experience.
But when I produced a New Year's Resolution it was always me trying to correct something I saw as negative about myself.
I was unfit, unhealthy, eating too much, sleeping too little. I spent too much money or was not taking enough responsibility for my finances. I was under pressure and instead of dealing with the cause of that stress, I was ignoring it.
For example, for years, I wrote down things like this:
"Get fit."
"Get budgeting so I have more money in savings."
"Get my weight below 74 kilograms."
"Stress less."
You see the way it was.
I wrote get fit, but I meant I am so unfit and lazy.
I wrote get my weight below 74 kilograms, but I meant I am so fat and unhealthy.
Starting from a place where my resolution just focused on the negative in my life or behaviours was hardly going to make me feel any better.
This year, I thought instead about who I wanted to be in 2023. I focused on the immediate and the middle stages of making life positive.
Here are some of my To Be's:
I want to be making tales on trails.
For me, that means bush walking and hiking, creating memories that turn into stories I share with people over a coffee or catching up.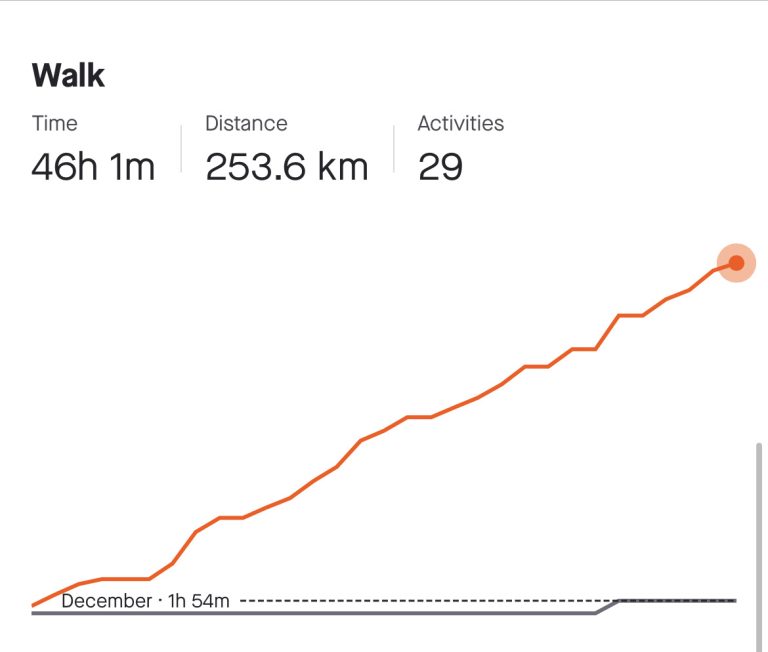 To make tales on trails, I must turn up to walk there. There is no number I have set for that – no number of days or kilometres to reach. But a funny thing has happened. Since 1 January until 31 January, I have walked 253 kilometres on my local trails.
Making tales on the trails!
I have seen new foals arrive, scores of black cockatoos feasting on pinecones, had great conversations with families, friends and strangers.
I have been someone making tales on the trails.
Last year, in a fit of I need to be healthier mind snap, I set a goal of walking 300 kilometres in a month. I started off strong and then fizzled extremely fast within a week – a lot like many New Year's Resolutions.
See the difference in the outcome between the two approaches? One led me to continue with every step being a positive, whilst the other was a reminder of what I was failing to achieve.
I want to be deserving of a promotion.
Yes, this is a clear professional, work related goal. And given that, together with Randall, I own Churchill, you may be a little confused by this one. Let me explain…
Randall and I have been leading Churchill in an everyday, nitty gritty way, for 17 years and it was time for our next learning opportunity.
We did not want to part with Churchill – we still believe in Churchill's clients and Alumni too much to do that. But to make Churchill better, for our customers and our colleagues, operationally and strategically, last year we welcomed Ross Caldwell, (previously Churchill's COO) back to Churchill as our CEO.
For the last nine months Randall and I have been deep in teaching Ross all the operational parts of Churchill.
Now, with 2023 here, it is time for me to work on fulfilling the role of a Director, with all the responsibility that requires. I do not want to be a in title only Director. I want to be a Director who the CEO and the team believe is doing an excellent job, and deserves the promotion.
That is the thing about going after promotions.
We can only ever own our personal effort, professional learning and put ourselves out there for the opportunity of promotion. Often, though, effort and courage are rewarded – even if it is the pride, we feel in ourselves and sometimes, in deciding to leave one position at a company to pursue the recognition our experience, skills, knowledge and commitment deserves at another company.
I want to be having conversations with strangers.
Sounds odd, right? Like you want to avoid all eye contact if you see me coming!
The truth is that I want to make some new friends this year.
To do this, I need to be willing to have more conversations with strangers. Remember, our friends all begin as strangers. Like many people, I can find the idea of making new friends hard. Life gets busy, right, everyone already has their circle of friends already established.
So instead of writing "make a new friend," I dialled it back to basics:
Take the chance to have more conversations with strangers. Funny thing is that I have been forming a new friendship with the man who owns the local coffee shop.
We exchange book recommendations, we both have an eldest son named Declan, we both turned 50 last year, we both own a business and we both like to walk trails. Some conversations with a stranger led to a friendship that Randall and I are both enjoying. Cool, hey.
I want to be producing something to share with other people, not just consuming something made by other people.
Covid had a knack of making many of us consumers at a whole new level – scrolling TikTok, bingeing Netflix, online shopping. Sound familiar?
I want to flip the switch this year and be someone who produces something in my spare time.
I even have something to produce – I am going to set up a local Parkrun in Samford.
I am not a runner, I am a walker, but I figure that is okay because whether it is Parkrun or bushwalking, it is all an opportunity to make tales on trails.
Parkrun is an amazing community-focused, free activity.
And I am quickly discovering that establishing a new Parkrun requires conversations with strangers. People have come out of the woodwork with their knowledge and experience, willing to share and help me turn an idea into reality.
It is going to take most of the year to produce a single event and I will fill you in once that first event launches.
There are a few more on the To Be list, but you get the idea.
Focusing on who I want to be, it is leading to action and I am on my way to achieving my true goals with enthusiasm.
To keep this list front of mind, I made it a Note on my phone and shared my list with a few friends who I know will check in with me on my progress.
No matter how you approach New Year's Resolutions, having goals in life is an important strategy for looking to the future and recognising the control we can have in our lives.
If like me, you have a professional, career-related goal this year, we are here to help you.
Every day, the team at Churchill help people do just that: take another step towards their career transition, their promotion, achieving the recognition their skills, knowledge and experience deserves.
That is a constant in our worlds.
If like me, you believe that sharing your goals with like-minded people encourages you, then I am here, eager to hear all about your goals and cheer you on. You can contact me at hello@churchilleducation.edu.au.
And along the way, I'll accept all the encouragement you are willing to send my way too. And any tips for what makes an outstanding Director in your experience!
To support your career 'to be's', I encourage you to give the team on bell on 1300 793 002 to chat about a free recognition of prior learning assessment.
Tricia