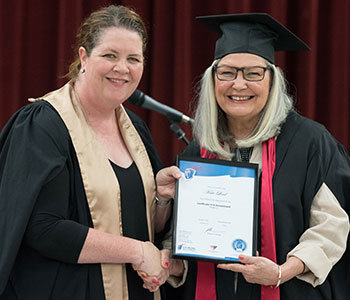 Kate Lind's recent graduation with 3 qualifications through RPL represents years of experience and bringing her very best to every position she has held. Kate received a PSP40116 Certificate IV in Government, BSB40515 Certificate IV in Business Administration and a BSB41015 Certificate IV in Human Resources.
With a "can-do" attitude, Kate has survived organizational restructures and company buyouts. Her working life started as a temp but her skills quickly marked Kate out for more challenging permanent roles.
New positions would become available and she became used to hearing the same request in every workplace, "Kate, we really need you in this different role." Kate realised that her initial response of "oh, but I've never done that before" would be met with a confident, "you'll learn." And so she did, launching into the deep end, and finding that in the career stakes, Kate was a very strong swimmer.
Along the way, Kate enrolled in a Diploma of Management. Family responsibilities meant that halfway through, she had to withdraw. Working full-time and caring for a family member living with dementia meant that something had to give. So Kate willingly put aside her studies to focus on family.

But at the back of Kate's mind was always that missing piece – the validation of her experience in the form of qualifications. As Kate said, "I've got really good references. I've got a good experience on my resume. I've got a can-do reputation, all that sort of stuff. But that bit of paper can slide you over the line."
Now's my opportunity
After decades of juggling work and family, Kate realized that for the first time, she had a choice for the next stage of her career. This was her time, and Kate knew it. She asked herself a very important question: "Now's my opportunity, what can I do that's different?"
So Kate began to prepare for her next career step. Still, that lack of qualifications bothered her. It was as she was reading a work newsletter, that she found her answer: recognition of prior learning.
"I saw an ad come through on the Queensland Health newsletter about RPL. Because I work in recruitment and payroll, I've sold RPL to a number of other people, but I hadn't ever really considered it for myself. I saw the ad … it sort of reached out and tapped me on the shoulder and said, "Hey".
Kate reached out to Churchill Education to see what her experience was worth. When the assessment came back, Kate was happily surprised to see that her experience was able to be recognized. Kate received not one, but three nationally recognized qualifications. Having given up her studies for family, Kate said: "I thought this is perfect, this is kind of recompense for that."
"Now I've got that little bit of paper to put on my resume, I feel like I can go for any job that I want to go for and expect to get it."