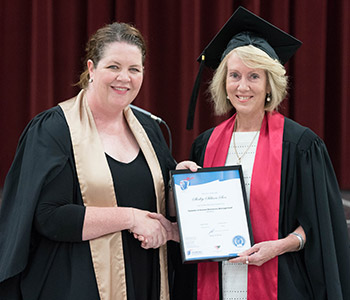 Churchill Graduate Shelley Silburn Soes' instincts are strong in the career space. The career game has changed since she first entered the workforce. Predictions are that in the next two decades 40% of Australian jobs will be replaced by new economy jobs. So it's important that we all find ways of staying ahead in the career stakes. We spent some time chatting with Shelley about RPL and how she has successfully managed her career.
Multiple qualifications improve employment and income prospects
Shelley has been committed to ensuring that her knowledge grew at the same pace as her skills. She has completed a number of Bachelor qualifications and Diploma studies. In 2017, whilst studying her Masters of Counselling, Shelly graduated through RPL with BSB51918 Diploma of Leadership and Management, BSB50215 Diploma of Business, BSB51415 Diploma of Project Management and BSB50615 Diploma of Human Resources Management. The blend of tertiary studies with vocational qualifications is one that Shelley has mastered well throughout her career.
Completing multiple qualifications has been a career-boosting and income protecting strategy for Shelley. According to the Australian Bureau of Statistics, employment prospects get more than a 20% bump for the better, and average weekly income increases by $500 to $800+ per week for those who hold multiple qualifications.
Choose qualifications that are transferrable across employment fields
Shelley recommends spending some time choosing qualifications that reflect the depth of skills that are appealing across employment sectors. "I can see that a combination of the attributes that went into those Diplomas could be seen as very valuable for employment," said Shelley. "Counselling, human resources and leadership, and project management – those kinds of qualifications are so flexible you can use them across any field."
Make the most of your experience through Recognition of Prior Learning
Shelley has held a range of roles – from her years of Army experience to teaching and being the Head of Department in a school. There was a great depth to Shelley's knowledge that proved her competency against the standards of nationally recognised qualifications. RPL enabled Shelley to have her experience recognised simply and in a time frame that fits in with her studies and work. Shelly heard about Recognition of Prior Learning from another Churchill Graduate, Julianna Plummer. Julianna "made the process sound easy. And it was easy."
Keep a record of the work you do on the job to help get you qualified
Years ago, when you moved jobs or got promoted, keeping a record of work you'd already done meant taking a mountain of paperwork with you. Position descriptions and statements of duties were all in hard copy. These days, tapping into cloud-based services or the trusty USB ensures that you always have evidence of your skills and knowledge at hand.

As Shelley can attest, it's surprising how much evidence you build up during your career. "I came with about 400 photographs. And about a thousand things on a USB key in the form of documents. The opportunity to demonstrate your knowledge through sharing documents or participating in an interview with one of Churchill's Recognition of Prior Learning assessors reminds you of how much you really do know. I found it good. The interview was valuable and everyone was very friendly and helpful," says Shelley.
Plus Churchill's RPL process ensures that all documentation Shelley provided is kept confidential. We've worked with sensitive documentation from a range of security-conscious employers.
Plan in advance for career transitions
Finally, it's never too early to start planning for your next career transition. Spend time thinking about what you would really enjoy doing for work and how you can make the work you have already done work in your best interests.
Shelley encourages other people to think about how to prove their skills and knowledge through qualifications years before they are approaching their next career transition. Her advice is to "make sure that you jump in any kind of training. And make sure that you use whatever you can to walk out with some pieces of paper" through having that experience recognised.
As Shelley completes her Counselling studies, she is already seeing a future doing work that makes her proud. "The very small things we can do to make huge differences in people's lives, and that's what I think I can do in counselling," says Shelley.
What a wonderful example of how a career can make us thrive, and not merely survive.