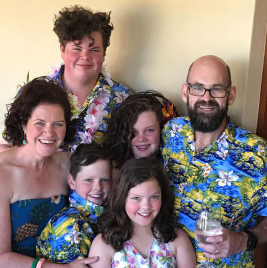 I am not one for too much fuss about these things but Tricia and our children organised for a small group of family and friends to celebrate over lunch with me on Sunday.
My youngest daughter, Amelia, gave a little speech and outed me as a "Love Songs After Dark" guy which gave everyone a chuckle – ensuring the little remaining street cred I had left quickly disappeared to the amusement of my mates.
A Whole New World
Then my two oldest children, Declan and Elle, completely surprised me by singing one of my favourite songs to me in front of our family and friends.
The song is an old Disney classic: "A Whole New World".
I have played it and sung it to my kids their whole lives.
And realising they had practised this just for me, watching my Elle getting emotional as she sang it for me, well, just quietly, it choked me up. Let's just say the prospect of me getting through walking that girl down the aisle without tears is looking pretty slim.
The Best is Yet to Come
In the lead up to turning 50, I realised something: I am half way.
Not done, not a sinking sense of "oh". No, I am only half way and the second half is ahead to be tackled with the best of me. And lived with a family that I would do anything for ….
Fifty down, yes, but with fifty to go – and mate, the prospect of 50 years ahead feels outstanding.
That is how I am going to approach life.
Everyone knows my story. It is something we have shared with lots of people.
And at points, I wouldn't have thought I would make it to 50.
But geez, I am so glad I did.
In the last twelve months, there have been massive changes in my life. It hasn't just been changed for me – it has been for me, for Tricia and for the kids.
I am in the best shape of my life – mentally and physically – and it really is a whole new world.

I am very appreciative of the supportive messages so many of you have sent me during the last year or so to help get me here.
Cheers to reaching the big Five-OH!
R U OK DAY
It is R U OK Day today …. a great reminder about the importance of asking each other how we are travelling, and being brave enough to share an honest response.
In my first 50 years I have benefited from both …. being asked was I okay? Summoning the courage to say the stuff many of us blokes don't actually talk about, and then the relief of someone being prepared to listen.
The life we have each been given matters.
Bad days come.
So do better days.
Today, I wanted to extend the same support you have extended to me and ask you, are you okay?
We're here to cheer you on during the highs and encourage you through the lows.
And here are some other great organisations we encourage you to reach out to if your answer to today's question is 'no.'
Best regards from a 50-years-young bloke.
Randall
Co-Founder
Churchill Education