I dropped my phone into a public toilet, and that's not the worst part… I had to plunge my hand in to retrieve it! It taught me some useful things about change, so I thought it was worth sharing this embarrassing story with you. At the very least it will give you a chuckle.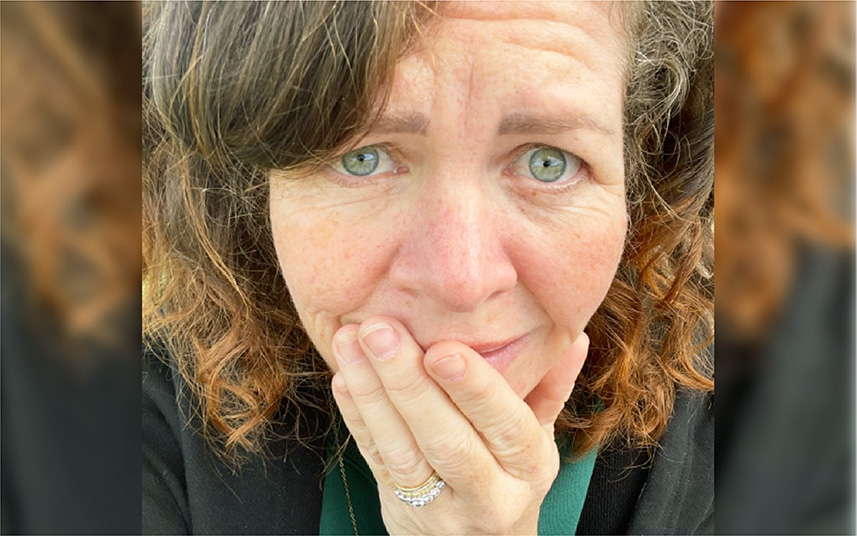 Listen to this story on our podcast
Recently, I updated my phone.
For the record, I hate updating my phone.
Truly.
Apart from the high cost of a new phone, the whole having to remember passwords to log back in, learning new buttons and operating systems, even the feel and weight in my hands is new and uncomfortable – all of it makes me groan.
So when my phone fell from my pocket into a public toilet last October, it was the dread of needing a new phone that immediately drove me to plunge my hand into the water to retrieve it. And then sent me racing to the abundant supply of hand sanitiser to remove the dirty germs.
As I washed the phone off, washed myself off, I felt embarrassed.
This little device was worth enough to me that I'd put my hand into the toilet water of strangers just to retrieve it – something was wrong with this picture.
I restarted the phone and waited for that magic apple to appear.
Fortunately, the phone seemed to have survived the combination of murky toilet water and hand sanitiser, which spared me telling the tale of the awful plunge to anyone else.
Or so I thought.

For months, the phone worked really well unless I needed to (a) listen to anyone on an actual telephone call or (b) make a video on the phone.
If I just stuck to texting and surfing socials, then all was well. Sure, it took some quick steps to divert calls to other phones and the car speaker system. And videos meant getting someone else to record. Still, the dread of replacement pushed me on in avoiding all change or confessing to Randall.
That strategy, whilst awkward and inconvenient, was what I put up with until about a month ago when Randall happened to answer my phone and needed me to make a quick video. The gig was up. The whole story came out and Randall, ever pragmatic, looked up the age of the phone and decided it was time for a replacement.
Even then, I tried to avoid it. I rattled off all the reasons why I hated being given a new phone. And I was overruled.
Randall and our teenage offspring (who embraced the idea of a new phone with glee) promised me that they would take care of the transition and that I wouldn't feel a thing.
Change was coming.
A new phone arrived, all shiny and full of promise. Randall and Elle, our 15 year old daughter, took over the set up process and before I knew it, I was becoming acquainted with a new device.
Here's the thing.
It works. Calls are easy, and I've been busy creating the Churchill videos again.
Yes, change has still been inconvenient and annoying.
A lot of apps I frequently use booted me out and the higher security ones, like the banking and authenticator apps, made me jump through some hoops to let me back in. The Garmin app is still not talking to my watch and I am left hoping that one day they will resolve their differences because I have no idea how to solve that problem.
But it turns out the idea of change was worse than the actual process of change. 

It turns out that if I had said something quickly, there are services that could have repaired my phone for me …. Helped me.
And when I finally shared the story, so many friends admitted to having dropped their own phones into the toilet.
Which leads me here, telling you the story, because it occurs to me that I'm not that unique in how I chose to tackle – or avoid change.
We have just ticked over to the second half of the year – 2021 is halfway to being done.
Some people have been talking to me about what is not working in their lives, their careers, their teams.
They know change is needed but they just don't want to put in the energy to make it happen.
They are embarrassed that they are not happy in their job when others lost their jobs through COVID.
They are not sure how to fix the problem and it has been a while since they put themselves out there for a new position that they are feeling a little daunted by the work that would be required to get ready.
They'd rather put in extra energy to avoiding the change needed. And keep grumbling about where they find themselves right now.
And then there are other people, booking in for qualification updates, resume reviews and LinkedIn profile advice with me.
Frequently, they offer me the same awkward half-apology for the state of their resumes or profiles or leaving it a while to update their qualifications.
I tell them all the same thing. The process of putting ourselves out there, navigating change, is never easy for any of us. It is not supposed to be.
Change requires us to do just that – change. And anything different requires energy and creates a little discomfort before it leads to better outcomes.
Don't be embarrassed. Others have been there before you. Others will come after you. I have been there before you. Others are here to help you now as you in turn will be there to support others who have come after you.
Don't suffer through the months ahead, living in the discomfort of avoiding change.

Get clear about what you need and ask for help to get there.
It will make all the difference.
You remember those videos I can now make on my new phone? It was one of those videos that led to Churchill getting inundated with high quality applicants for a position we advertised on our team. Every applicant we interviewed told us they were drawn to apply because of the video I made. Prior to that video, my previous ad without a video attached had been a big fail – not a single applicant worth interviewing.
Turns out that even simple changes can make all the difference.
If you are looking at the rest of 2021 before you and thinking you really should make a change, we are here to help you.
Just reach out: 1300 793 002 / hello@churchilleducation.edu.au
Tricia