Senior Constable with WA Water Police, Jaimie Smith recently achieved two top diplomas through Recognition of Prior Learning (RPL). Jaimie was also one of the recipients of the Churchill Education scholarship. In the following story, Jaimie shares her career history and discusses how her new qualifications will help her find a role that will offer both job satisfaction and better work-life balance for her growing family.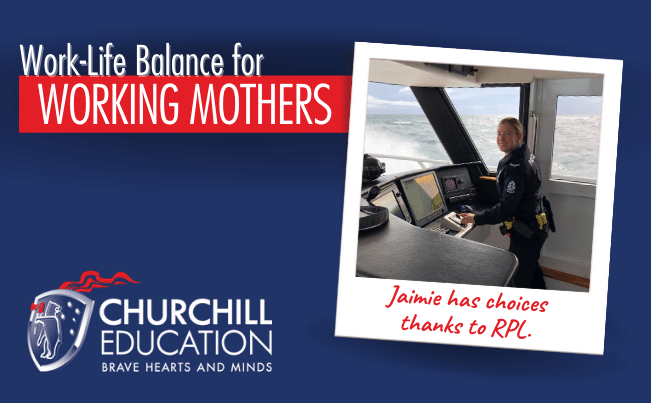 Jaimie's Career History
Jaimie started her career in 2010 as a Western Australia Police cadet to find out if it was a career that she would like to pursue.
She subsequently joined as a recruit and graduated as an officer in 2012.
In 2015, Jaimie applied to go to the Coronial Investigation Squad as it was something that she had always been interested in. She spent almost three years there, dealing with different types of deaths and reporting on death for the Coroner.
"A few different jobs went to Coronial Inquest as a mandatory requirement, such as death in custody and workplace deaths which I found very interesting," Jaimie shared.
In 2018, Jaimie applied to join the Water Police, and has been there since.
She holds commercial qualifications as a master skipper for commercial vessels under 24 meters.
"The main core function of water police is marine search and rescue. We coordinate jobs for all of WA."
In her role, she focuses on marine safety, helping local fishermen ensure their safety gear is up-to-date and suitable, and also assists with local disturbances and arrests.
Recognition of Prior Learning & The Churchill Education Scholarship
Jaimie was a recipient of one of our 2022 Churchill Education scholarships, which awards $2000 of value to fund qualifications gained through Recognition of Prior Learning (RPL).
From the list of qualifications that Jaimie's RPL assessment found her eligible for, Jaimie put her scholarship towards two versatile qualifications:

Work-Life Balance for Working Mothers
Jaimie has a three-year-old daughter and has reached a stage in her career where she is looking for better work-life balance for her family. Around the clock shift work is challenging when raising children.
During her work as a Coronial Investigator, Jaimie found helping families through the process gave her incredible job satisfaction. In the future she would ideally like to be in a role where she can help prevent incidents from occurring.
In her current role with the Water Police, Jaimie has volunteered as the Health and Safety rep for her unit. This has further inspired her desire to move into a Work Health and Safety (WHS) role that will give her both job satisfaction and better work-life balance.
Future Career Plans
Currently there are very few vacancies within WA Police in the WHS area, and all are occupied by sergeants.
"I'm one rank away from sergeant, so I may be looking towards promotion soon which will put me in a better position to be considered for a role in the Safety Branch. My new qualifications will help with that." 
Jaimie's new Diploma of Work Health and Safety and Diploma of Leadership and Management will also give her the option to look for a Safety Advisor or other WHS role outside of police if that ends up being the best option for her and her family.
The bottom line is, Jaimie has choices, and that is valuable!
If you'd like to find out what qualifications your career experience could be matched to, reach out via any of the below means.
And keep an eye on our scholarships page… At the time of publishing, applications are open for Women in Business and Defence Members and Veterans.